Wanted (2010) Bengali Movie Review: Jeet is Mindblowing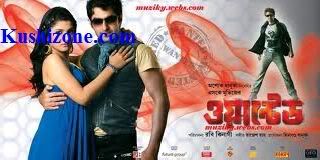 Wanted is the excellent comeback Bengali film for Jeet who plays a contract killer in the movie. WANTED is directed by Ravi Kinagi and Srabonti plays the female lead. Read the exclusive review of WANTED.
Wanted Bengali MOvie Poster
The film opens on a crowded street of Kolkata teeming with ordinary people jostling against each other. Two well-dressed men walk down. A woman asks the man accompanying her if she can buy some bangles. As she bargains with the bangle-seller, one of the two men walks forward silently, stabs him and walks quietly away. Raja is a contract killer. His next target is to the opposition leader who is to address a pre-election meeting. But he must not shoot to kill. The shooting is to attract sympathy votes so that the target can become the next CM. The hired assassin misses his target and the leader falls dead. The surprised sharp shooter, who has never missed a target in his life, makes a run for it, with the police hot on his chase.
This sets the mood of Ravi Kinagi's Wanted that marks the electrifying comeback of Jeet who portrays the contract killer. The audience learns Raja's name halfway through the film because he has by then, been mistaken for Shibu, his fellow-passenger who the police hit instead of Raja who was their target. Shibu was coming back home after 12 years to his grandfather and family. When Raja goes to inform the family about his tragic death, they mistake him for Shibu. The book of Raja's life opens a fresh chapter. This includes Shibu's fiancée Pooja (Srabonti) who tries her best to woo 'Shibu' in vain.
Wanted Jeet - Bengali Superstar
From the opening frames till the time Raja surrenders to the persuasive strategies of the naïve and beautiful Pooja, Wanted is straight out of any Bollywood action film – dynamic, filled with suspense, driven by the hesitation of the aloof and alone Raja who is constantly pulled between the two extremes of slipping into the dead Shibu's shoes and his contract killer identity. The police that now include the lecherous but persistent CBI officer Selim Ali (Sharad Kapoor) and his team are still hot on his trail. The sections that cover Selim Ali's chase have touches of tongue-in-cheek humour he spikes with his lecherous advances to anything in a skirt or sari from a housemaid to a photograph. Good touch that.
Once Wanted enters into the family fold of Siddhartha, Shibu's affluent grandfather (Biswajit Chakraborty), it slowly and steadily turns into a soppy, syrupy and sentimental family melodrama that constantly brings back bejewelled, ornamental and lavishly-mounted images from the K-serials on television. The relief in this monotonous droll comes in the shape of the fights between Raja and the gang of goons sent by the local self-appointed mafia lord. The action scenes are orchestrated with professional expertise and shot well, offering a welcome change from soaked-in-glycerine scenes of 'mother-son' reunions, a disgustingly precocious kid, a weepy daughter resisting lavish expenses on her impending marriage, two ghar jamais presenting two facets of the ghar-jamai community and so on and so forth.
Raja's contract killer identity is given a generous coating of white paint with his sometimes hidden and sometimes open generosity. It does not occur to the scrupulously honest grandfather to ask him where he got so much loolah from. The bank manager coolly allows a huge cheque to be encashed without even looking at the signature or asking for the account holder's PAN-card number! Selim Ali's pointing this out later does not undercut this unpardonable exaggeration of the unreal.
Wanted is thrilling till Raja comes to Shibu's house. After that, it begins its downward slide to pick up a bit towards the end when Raja chases the real killer who shot down the leader to absolve himself of a crime he did not commit. Selim Ali allows him to go back to his adoptive family because 'you are Shibu now so go back to Shibu's family.' Thanks to Kinagi for sparing us the mandatory group photograph that would have spoilt the entire effect he built up so carefully over most of the film.
Wanted is Ravi Kinagi's promise to give Jeet his ranking back in Bengali cinema. Wanted presents Jeet in an author-backed role in a new persona. His look is new, his screen image carries a rare appeal and his performance is mind-blowing. He spikes his performance with long phases of silence, moments of hesitation before he begins to give in to the emotional overtures of his adoptive family, trying to stay away from Pooja's naïve wiles, etc. In short, no one has seen Jeet on screen in this avatar ever before. His dialogue is kept to a minimum and this enhances the power of a contract killer's character. Sharad Kapoor for some mysterious reason, wears a different monkey cap in every scene and this takes away from his smashing looks a bit. He delivers his dialogue in a longish drawl perhaps to avoid errors in his Bengali enunciation. Indrajeet as Raja's double-crossing ally does very well in a brief cameo. Srabonti does not have much scope except looking beautiful in ethnic designer costumes that do not belong to a Bengali small-town home where all other women are sari-wearing. But she does justice to the teasing scenes with Jeet. Aritra Dutta Banik as the precocious kid, that he always is, should stop films and go back to school. Rajesh Roy's musical score is quite impressive barring the two songs shot in foreign locales (Bangkok?) that somehow do not go with Raja's character in both his personas. The soundtrack gets louder towards the end, drowning much of the dialogue.
Jeet will hopefully silence his critics and his audience with his brilliant performance in Wanted. The slick production values should scale up its box office ratings. But one still desperately wishes that the chase had gone on and not stopped with a family 'function' and the end had been a little less of willful suspension of reality. Wanted deserves a rating of six on ten.